Port St. Lucie, Fla.
Tradition In Motion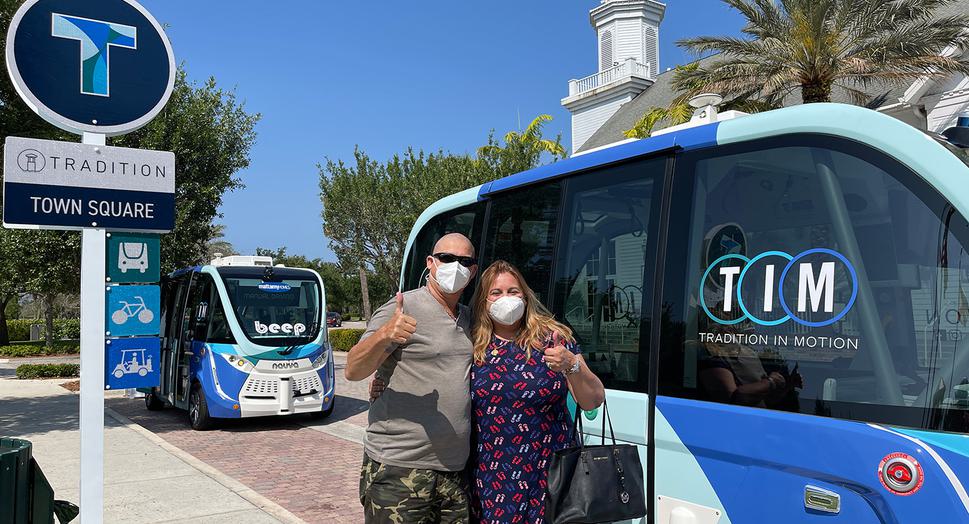 Tradition in Motion enhances mobility and connectivity within this planned development using an autonomous vehicle network to connect various residential areas to the goods and services across this 15-square-mile community.
Beep created an autonomous vehicle network with Mattamy Homes, the largest privately-owned home builder in North America, in Southeast Florida at Tradition within the City of Port Saint Lucie. The service known as TIM, which stands for Tradition in Motion, consists of two routes and two shuttles operating in mixed traffic on public roads.
The service is part of the Tradition Trail, a larger mobility network serving the community, and is the first of its kind in South Florida within a planned development. The future multi-functional mobility network will span almost 20 miles with experiential trailheads. Additionally, the trail will connect regional parks, athletic fields, and nature trails throughout the community. Upon full buildout of the community, Tradition will consist of 12 neighborhoods.
Tradition
The Teal Line provides residents with a direct connection to The Landings retail shopping center from the center of town called Tradition Town Square. The route consists of three stops with one at the Town Square and two more within The Landings.

The Indigo Line gives residents at Tradition's Manderlie community an alternative means of transportation to Tradition Town Square where there is a grocery store, restaurants, and retail. The stop within Manderlie also provides future residents the opportunity to ride the shuttle as they explore the community after visiting the model homes.
For more information on this service, visit the TIM site
Contact Us
Bring Beep To Your Community
If you want to provide safe, convenient, eco-friendly mobility services in your area, reach out to Beep. We will help you assess the benefits and impact you can realize for your town, city, business or campus.