Atlanta, Ga.
Cumberland Hopper
The Hopper is an autonomous shuttle pilot program provided to the community by the Cumberland CID as part of a major mobility project called the Cumberland Sweep.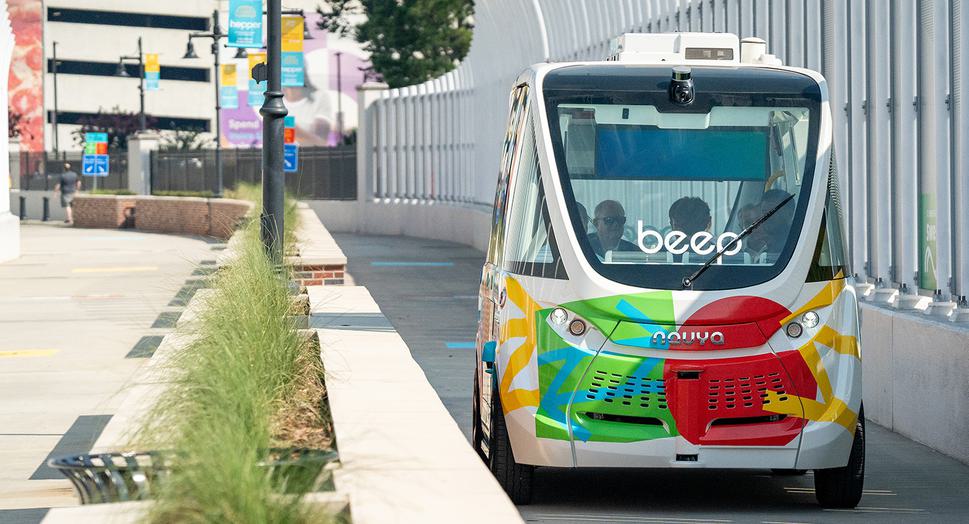 The Cumberland Hopper program will provide CCID the data collection, performance evaluation, and community feedback to further define and develop the long-term Cumberland Sweep mobility strategy which will be implemented over the next several years.
This project will include a 3+ mile path around the core of the Cumberland District with dedicated walking and biking lanes and an autonomous shuttle system with the goal of connecting people to jobs and Cumberland's major assets. The first segment of the Sweep is currently in design, and construction will begin in 2027.
The Sweep is a three-mile plus corridor of dedicated walking and biking lanes strategically designed to connect key destinations throughout the core of the Cumberland CID.

The partnership between Beep and the Cumberland Community Improvement District represents a significant step forward in transforming transportation options within Cumberland, offering enhanced connectivity, sustainability, and convenience to the business community, residents, and visitors. The Cumberland Hopper provides an efficient and complimentary transportation service by leveraging Beep's advanced autonomous mobility solutions and national experience.

Cumberland Sweep
During the pilot program, the Cumberland Hopper autonomous shuttle will operate along two designated routes, connecting key destinations as part of a major mobility project in development by the Cumberland CID called the Cumberland Sweep. The eight-month pilot program will connect visitors, residents, and the community to destinations around Cobb Galleria and to The Battery.
Contact Us
Bring Beep To Your Community
If you want to provide safe, convenient, eco-friendly mobility services in your area, reach out to Beep. We will help you assess the benefits and impact you can realize for your town, city, business or campus.