Lake Nona, Fla.
Move Nona
Move Nona has created the largest and longest autonomous vehicle network at one location in the country with five routes and eight shuttles connecting nearly 10 key destinations within the community.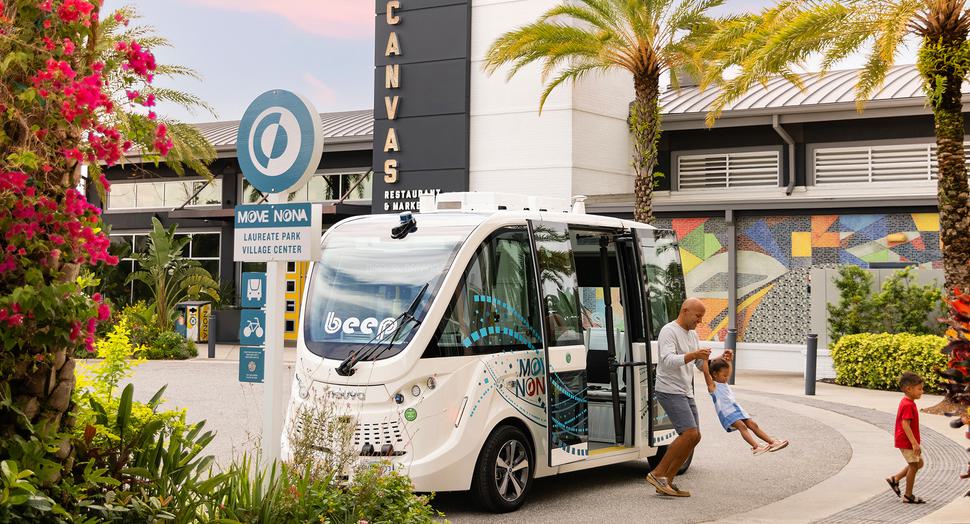 Lake Nona, a 17-square-mile  neourban community, is one of the fastest growing communities in the United States. It combines residential living, schools, research clusters, medical campuses, retail, restaurants and recreational areas with an emphasis on innovation and sustainability.
The developer, Tavistock Development Company, sought alternative mobility solutions to provide a way for residents, employees and visitors to move around the 17-square mile community. The developer also sought ways to phase implementation of an autonomous mobility network prior to the community's full buildout utilizing $20M in BUILD grant funding from the United States Department of Transportation.
43,000
passengers carried
22,400
vehicle trips eliminated
The largest, longest-tenured autonomous network in the U.S.
Move Nona's autonomous shuttle routes are a vital component of Lake Nona's multimodal transportation strategy to create a seamless, efficient mobility network. Expansion of the autonomous network and infrastructure will support a 25 shuttle fleet and more than 15 miles of multimodal paths.
Contact Us
Bring Beep To Your Community
If you want to provide safe, convenient, eco-friendly mobility services in your area, reach out to Beep. We will help you assess the benefits and impact you can realize for your town, city, business or campus.