Our Approach
Mobility Networks
Beep delivers the next generation of shared mobility services utilizing driverless, electric, multi-passenger vehicles. Specializing in planning, deploying, and managing advanced autonomous shuttles for both private and public communities, Beep safely connects people, places, and services in first-mile, last-mile mobility networks.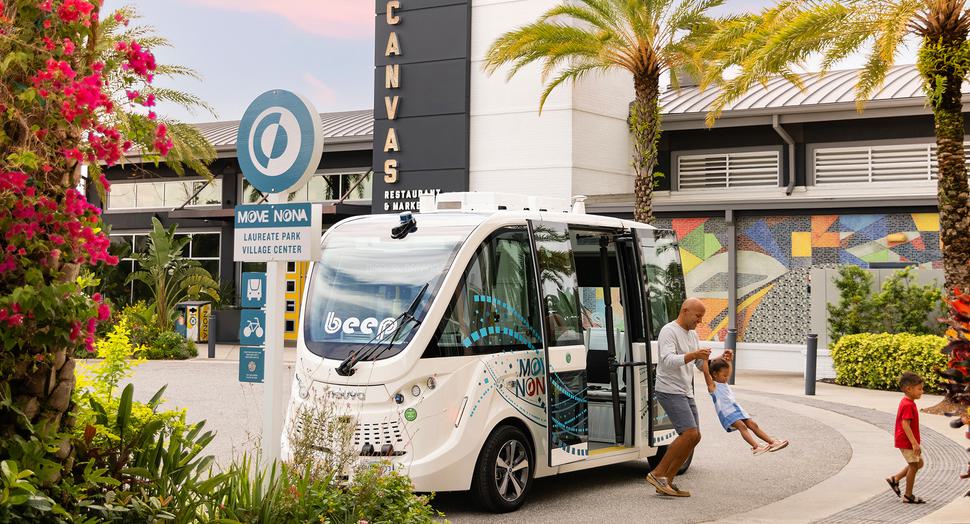 145,000
passengers carried
Our focus is on leveraging purpose-built autonomous shuttles to provide shared mobility networks. This vehicle form factor combines the qualities of shared, autonomous, and electric transit with a passenger capacity that reduces congestion, extends access to public transit, and enables mobility equity.
Solving for congestion

Shared autonomous vehicles have the potential to transform the way we move people around and between our communities by addressing the root cause or force multiplier of major transportation issues from road safety to noise pollution and carbon emissions: congestion. 
Studies have found shared, electric autonomous vehicle deployments are likely to have significant environmental benefits, with the potential to reduce vehicle noise by half and reduce transportation-related carbon emissions by up to 70 percent. 
A single shuttle route can eliminate private car trips by a four to eight-to-one ratio, making for safer, quieter roads and even reducing the space and capital requirements needed for dense parking structures.
Comprehensive solutions
Our comprehensive services portfolio includes upfront analysis, planning and design all the way through to turnkey operation of an autonomous mobility network. If you're a public transit operator looking to integrate autonomous transit into a multi-modal operation, we can provide the design, implementation, technology platform and enablement services to do just that.
Our technology platform provides service management, governance, and experience features to ensure scalable and efficient solutions, to enhance the safety, access, and operating capabilities of autonomous services and to enable mobility for all.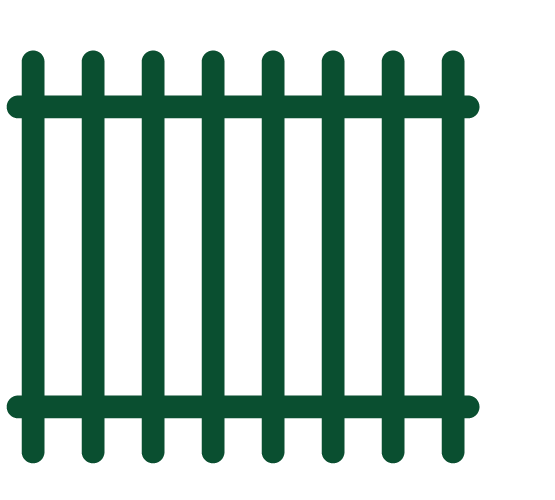 Geofenced deployments
Designing autonomous deployments within a geofenced area allows for greater and deeper knowledge of the environment, providing a substantially greater degree of control. Access to smart road infrastructure allows us to provide a higher level of insight into road conditions and integrate with these devices to permit features such as signal light preemption.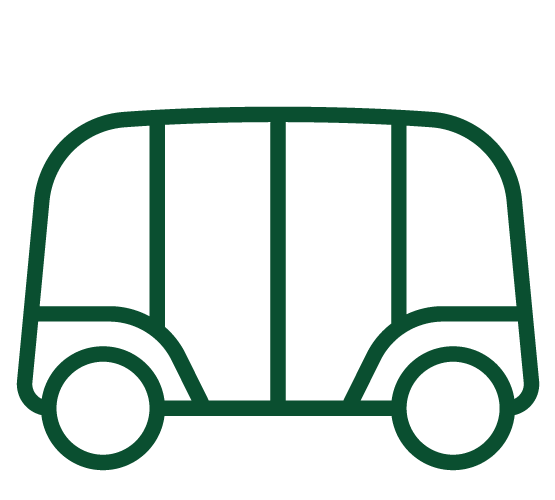 Shuttle form factor

Our purpose-built electric shuttle fleet sees form following autonomous function, allowing for vehicle rightsizing while maximizing passenger space and capacity by eliminating the traditional driver cockpit, lowering access height and improving accessibility and comfort.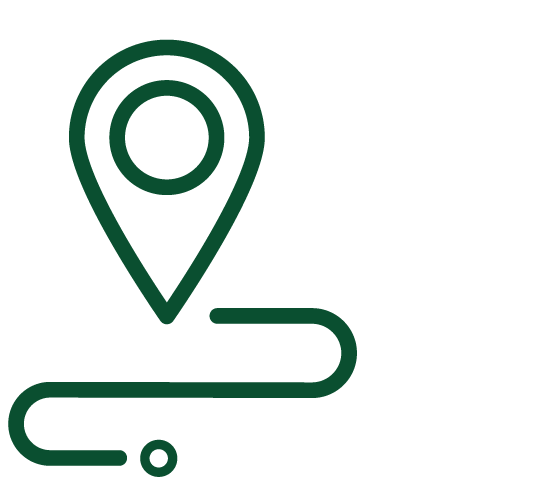 First/Last mile

Our deployments are designed to solve for first- and last-mile use cases, connecting retail to residential, remote parking to campus amenities, and underserved communities to public transit stops and stations.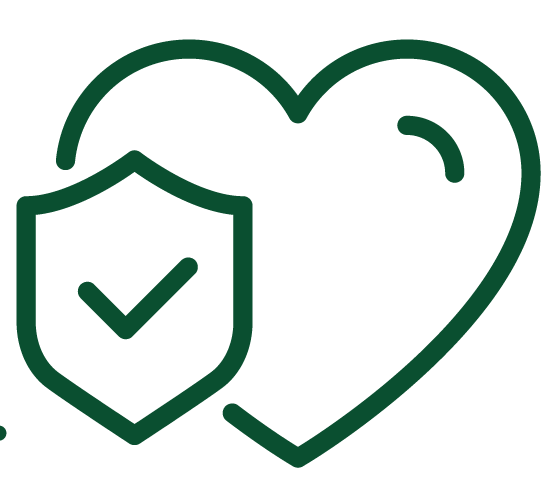 Safety

Safety is at the center of everything we do as a company. It is the focal point of our planning, deployment and management of our mobility services and a critical component in our partnerships and education. Safety is a driving force and guiding principle in our product development.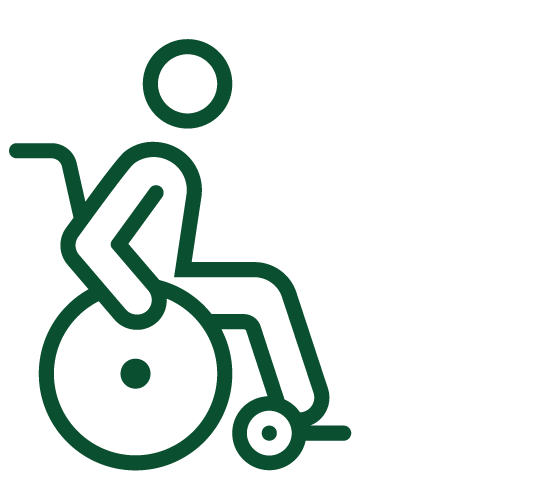 Accessibility
70 percent of people with disabilities have difficulty traveling. A commitment to accessibility informs our vehicle fleet, with all of our purpose-built shuttles equipped with ADA-compliant wheelchair ramps and restraints. Our user interfaces are designed and engineered with accessibility top of mind, and our next-generation shuttle platforms will provide comprehensive accessibility features.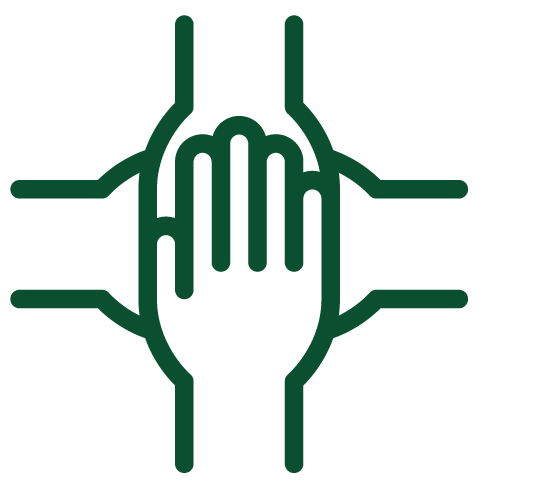 Mobility for all

Ten percent of U.S. households do not have personal transportation, and 45 percent have no access to public transportation. Our networks help extend mobility to all members of a community, providing on-ramps to public transit in underserved areas and providing an alternative mobility service in communities where large-scale public transit is not viable.
Contact Us
Bring Beep To Your Community
If you want to provide safe, convenient, eco-friendly mobility services in your area, reach out to Beep. We will help you assess the benefits and impact you can realize for your town, city, business or campus.