Services
Operations & Service Management
Our turnkey mobility solutions encompass vehicle procurement, operations, service management and community engagement.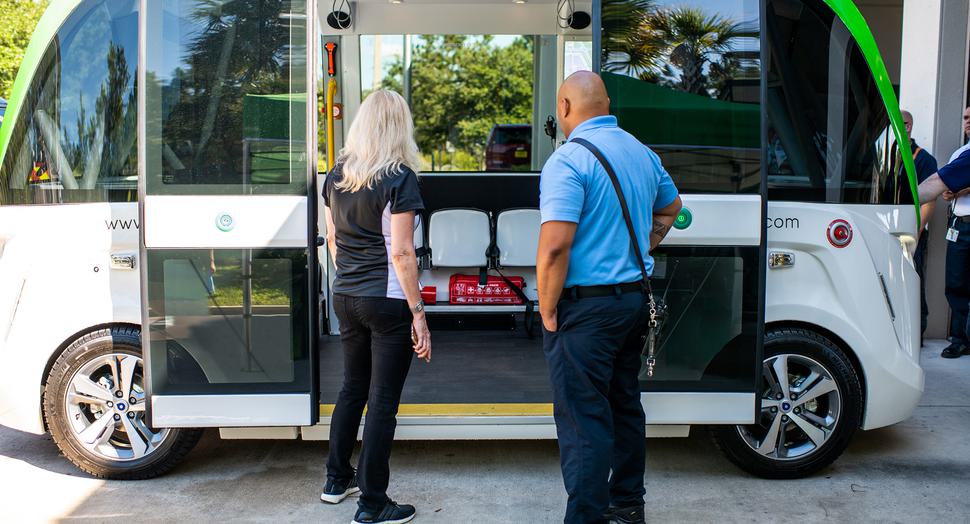 We've been testing and deploying autonomous shuttles in diverse real-world environments for more than five years, experience unmatched in the industry, providing us the data, insight and learnings needed to continue to safely advance the use of these vehicles in autonomous mobility networks.
Our leadership in testing and operating autonomous shuttle networks is demonstrated by the operation of the largest and longest tenured autonomous shuttle deployment in the United States, with five routes serving Lake Nona, Florida's medical campus, residential community, business park, and entertainment district in the master-planned, 17-square-mile community.

We have also been awarded the nation's largest public sector contract for the deployment of autonomous shuttles by the Jacksonville Transportation Authority in Jacksonville, Florida.
We operated the first and only federally procured autonomous shuttle deployment serving public passengers at Yellowstone National Park, alongside additional deployments in Arizona, Florida, North Carolina, and Georgia. We were awarded an FTA-funded project to deploy shared autonomous vehicles in California, which began operation in April 2023, and in 2022 Beep was honored with the ITS World Congress Industry Award. Since 2019, we have secured 30+ National Highway Traffic Safety Administration (NHTSA) Waivers for operation.
145,000
passengers carried
Safety
Every partner is unique, and no two deployments are the same. The one constant is that safety for passengers and other road users is at the heart of every Beep deployment. We are committed to comprehensive safety planning and hold the safety, welfare, and health of our team members and passengers as a core value.
We were one of the first service partners with the National Highway Traffic Safety Administration's AV Test Initiative meant to provide national awareness and learnings from autonomous deployments throughout the country. We support the management of safety by maintaining a culture that fosters safe practices, encourages employee safety reporting and communication, and actively manages safety as a primary objective.
We provide hands-on training to first responders in each community before the start of each service. Our team has trained hundreds of first responders and serves as a resource to departments that are developing and implementing policies on how to prepare for autonomous vehicles as part of our future.
Service Management
Our global Command Center provides command-and-control oversight of our footprint nationally, ensuring shuttles are on task and on mission, and directing operations across the fleet. Our standard maintenance services include proactive telemetry monitoring and analysis in addition to preventative maintenance on software and equipment and performance optimization.
Attendant Services
Our on-board attendants provide a face to the service. Attendants greet passengers, provide service information, educate passengers on autonomous technology and operate the AV manually, if required. The attendant also helps passengers requiring assistance in accordance with the Americans with Disabilities Act (ADA) and perform any additional safety and security measures that may be necessary.
Community Engagement
Beep prioritizes the importance of education for the public, future passengers and community ambassadors about this safe and reliable new form of transportation. Our experience demonstrates a more successful path to passenger and community adoption when community engagement is treated as a strategic component of a deployment. Our services in this area include public and community relations, social media strategy, launch and community events.
Contact Us
Bring Beep To Your Community
If you want to provide safe, convenient, eco-friendly mobility services in your area, reach out to Beep. We will help you assess the benefits and impact you can realize for your town, city, business or campus.