UNC, Charlotte, N.C.
CASSI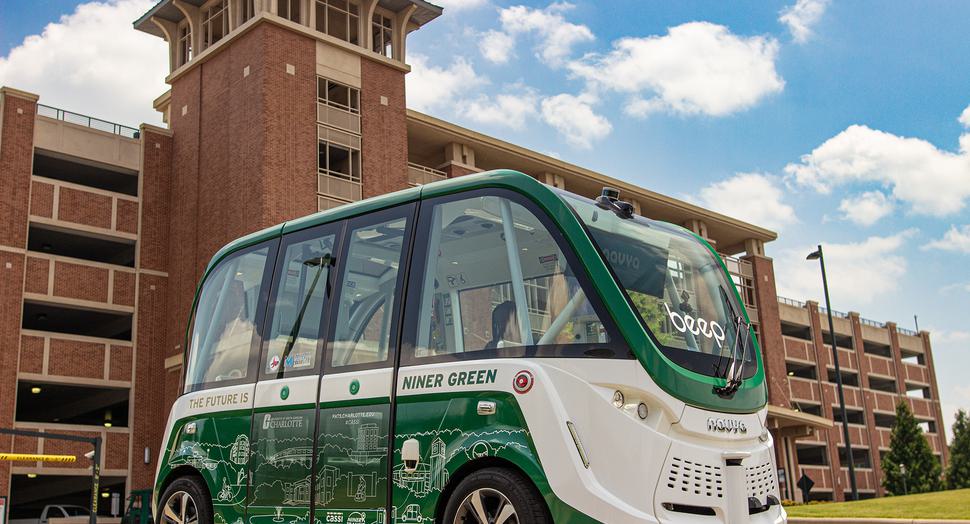 NCDOT and Beep are working in partnership to explore applicable use cases for shared, electric, and autonomous shuttles for communities in North Carolina. The partnership will enable NCDOT to expand its understanding of autonomous technology with the CASSI program and further Beep's safe testing of autonomous shuttles in real-world environments.
NCDOT and Beep will test autonomous shuttle technology in two project locations in the state. These projects will enhance NCDOT's understanding of shared autonomous mobility in practice and evolve the CASSI program as technology continues to advance. The project at UNC Charlotte represents the one of two projects in partnership with Beep. Beep and NCDOT also completed a pilot in the Town of Cary at Bond Park.
The six-month pilot project will enable NCDOT and the university's faculty, staff and students to research and evaluate the vehicle and service in a real-world, campus environment. 
Making Connections
The shuttle's six-stop, 2.2-mile route connects the Popp Martin Student Union, Greek Village, academic buildings and dormitories and the main campus light rail station located on the LYNX Blue Line. Connecting to the light rail system with Beep's shared autonomous mobility service provides riders with additional access to existing transportation services on campus.
Contact Us
Bring Beep To Your Community
If you want to provide safe, convenient, eco-friendly mobility services in your area, reach out to Beep. We will help you assess the benefits and impact you can realize for your town, city, business or campus.