Peachtree Corners, GA
Curiosity Lab at Peachtree Corners
Peachtree Corners is working with Beep to advance the reality of connected and autonomous shuttles, which will help provide alternative transportation options to communities across the country.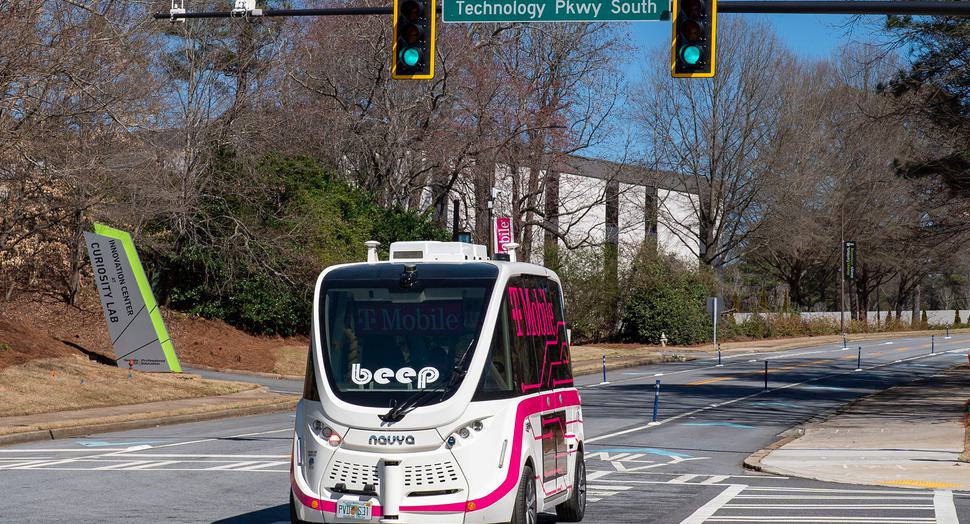 The City of Peachtree Corners is a tech-forward innovating municipality, which is home to more than 45,000 residents and houses some of the world's most disruptive technology companies in a hub called Curiosity Lab.
The 500-acre technology park attracts thousands of local, national and international visitors a year and is dense with business offices, hotels, restaurants, retail shops and the Innovation Center at Curiosity Lab at Peachtree Corners and City Hall.
This pilot will focus on cellular vehicle to everything integration, where the city's infrastructure can communicate with the shuttles, and also the shuttles will be testing vehicle to vehicle communications, as well as operating autonomously safely on public roads.

Technology Parkway
Technology Parkway is the main road connecting the technology hub and is outfitted with C-V2X technology and three-miles of dedicated lanes. The city sought to enhance autonomous shuttle and vehicle testing and operations along the dedicated path while showcasing the corridor to spur economic development. The service called 'PAUL' (Piloting Autonomous Use Locally) will make seven stops along Technology Parkway, two on the west side and five on the east side.
Contact Us
Bring Beep To Your Community
If you want to provide safe, convenient, eco-friendly mobility services in your area, reach out to Beep. We will help you assess the benefits and impact you can realize for your town, city, business or campus.