Peoria, Ariz.
RoboRide
Robo Ride and Robo Ride Medical provided the City of Peoria with a reliable autonomous service for residents, seniors and visitors in two areas within the city.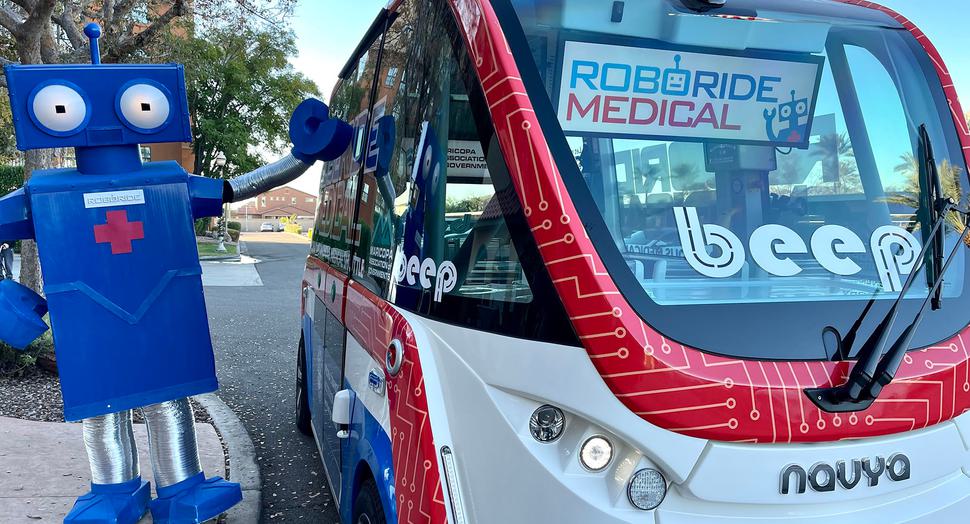 The City of Peoria partnered with Beep for autonomous mobility projects called ROBO Ride and ROBO Ride Medical. This program was designed to understand the feasibility of using autonomous vehicles alongside current transportation options as well as assess ridership adoption, behaviors, and patterns.
ROBO Ride
The autonomous shuttles operated in the P83 Entertainment District in mixed traffic that includes pedestrians and vehicles along Arrowhead Fountain Center Drive from Huntington University to Paradise Lane. The shuttle travels on Arrowhead Fountain Center Drive with four stops in the diverse entertainment area with hotels, restaurants, a spring training sports complex, and a university.
ROBO Ride Medical
The City of Peoria partnered with the Maricopa Association of Governments (MAG) and Beep to bring a fully electric, autonomous shuttle within a robust healthcare district located near Plaza Del Rio Boulevard. Plaza Del Rio is home to more than 100 medical facilities and more than 500 senior living residences. This service connects Peoria residents from their point-of-origin to their destination within the same service area.
Contact Us
Bring Beep To Your Community
If you want to provide safe, convenient, eco-friendly mobility services in your area, reach out to Beep. We will help you assess the benefits and impact you can realize for your town, city, business or campus.