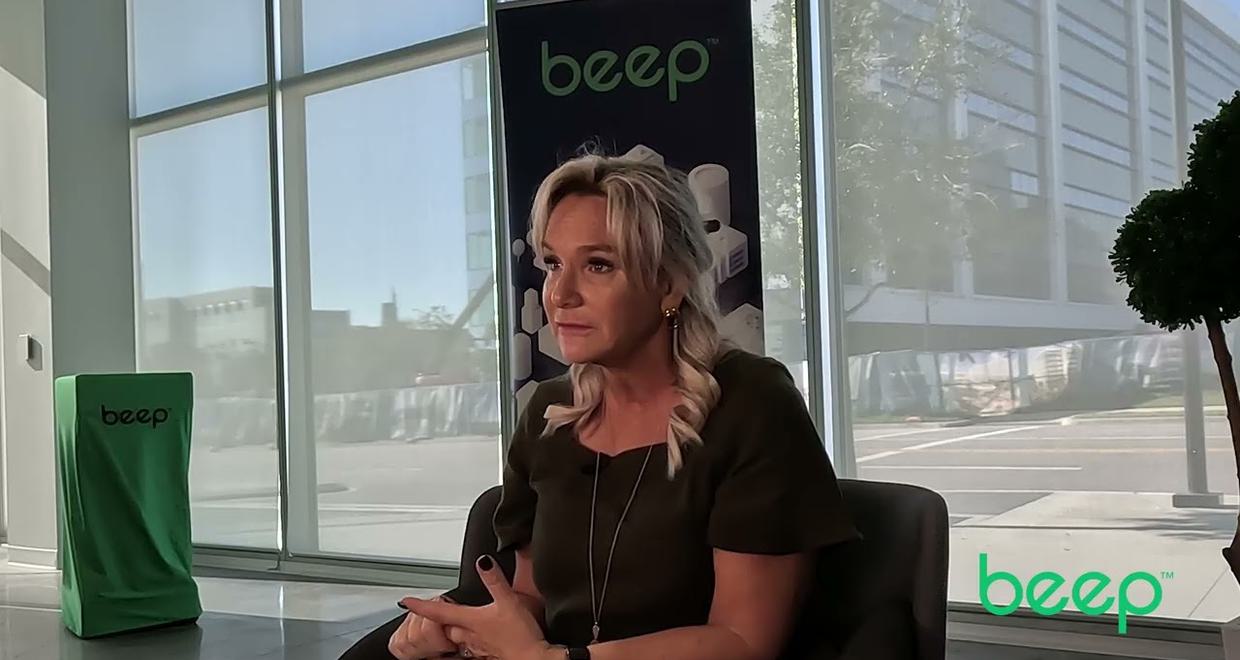 Experienced Industry Leaders Appointed to Operations, Strategic Accounts & Policy Roles
LAKE NONA, Fla. Feb. 8, 2023 — Beep Inc., a provider of autonomous shared mobility solutions, today announced the expansion of its leadership team with the appointments of transportation industry veterans Katrina Heineking, Marc Klein and Alex Poirot.
Heineking joins the Beep team as Executive Vice President, Operations. Heineking has been in the transit industry for more than three decades and brings a unique blend of career perspective and skills, having worked in transit systems in both the public and private sector. Prior to joining Beep, her most recent role was with Transdev North America, the continent's largest private provider of multiple modes of transit, where she was responsible for helping to create and head Transdev's autonomous vehicle division. Since 2008, Heineking has been a board member of the Arizona Public Transit Association, including a term as its president. She has also served as a board member of the Southwest Transit Association and of the Friends of Transit Board of Phoenix. In her new role, Heineking will oversee Beep's national operations including deployment and commissioning, site management and vehicle operations.
Marc Klein joins Beep as Senior Vice President, Strategic Accounts & Smart Cities. Klein has more than 20 years of experience delivering cutting-edge mobility and technology solutions across the United States. In 2018, as Vice President of Microtransit Government Partnerships, he launched the business-to-government unit for Ford Motor Company's Chariot Transit Inc., where he focused on improving accessibility, sustainability and mobility options in cities around the country. Klein was formerly Vice President of National Accounts and Airports at Clean Energy Fuels Corp., the largest provider of natural gas fuel for fleets in North America. In 2006, he co-founded The Vehicle Production Group LLC, which manufactured the MV-1, the first factory-direct wheelchair accessible vehicle to meet or exceed the vehicle guidelines of the Americans with Disabilities Act (ADA). Klein was named a White House Champion of Change award winner by President Barack Obama for creating innovative mobility, technology and sustainability solutions.
Alex Poirot brings 13 years of experience in mobility policy, serving in roles within federal and state government and the private sector, and joins Beep as Vice President, Public Policy. He was most recently Corporate Affairs Director for Keolis North America, a global public transportation operator, where he engaged key governmental and community stakeholders to advance safe, clean and equitable mobility.  Previously, he served as Senior Governmental Affairs Officer at the United States Department of Transportation under Secretary Elaine L. Chao, and as Acting Associate Administrator in the Office of Communications and Congressional Affairs for the Federal Transit Administration. From 2015 to 2019, Poirot served as Senior Policy Advisor to a senior member of the Transportation & Infrastructure Committee in the United States House of Representatives during the development, enactment and implementation of legislation including the Fixing America's Surface Transportation (FAST) Act and the FAA Reauthorization Act of 2018.
"I'm delighted to welcome Katrina, Marc and Alex to our leadership team," said Joe Moye, Chief Executive Officer for Beep. "As we continue to experience unprecedented growth and impact within our industry, these seasoned leaders will help us scale our operations, build close strategic relationships with our largest customers and ensure we continue to work closely with state and federal government agencies on enabling the safe adoption and expansion of autonomous mobility solutions that help protect our environment, improve road safety and extend mobility to all."
The appointments come as Beep continues to advance its market leadership and enhance its offerings:
At CES 2023 in January, the company announced a partnership with automotive manufacturing company ZF to bring the company's next-generation autonomous shuttle, unveiled at the show, to market in the United States. The partnership combines ZF's turnkey Autonomous Transport System with Beep's mobility services and service management platform into a single-source autonomous mobility solution.
Beep's partner HOLON launched its new autonomous mover at CES. The HOLON mover combines automotive-grade manufacturing with a bold, iconic design by Italian design company Pininfarina and the autonomous driving system from Mobileye.
In October 2022, Beep was recognized as a leader in its field as the winner of the prestigious ITS World Congress Industry Award.
About Beep
Beep delivers the next generation of autonomous, shared mobility solutions through its software and services. Specializing in planning, deploying and managing autonomous shuttles for private and public communities, Beep safely connects people, places and services with autonomous networks that reduce congestion, eliminate carbon emissions, improve road safety and enable mobility for all. Beep leverages the data and learnings from its deployments to enhance and advance the safety, experience and operating capabilities of autonomous platforms. For more information visit www.ridebeep.com.
###
Interested in joining the Beep Team? Apply Today!
Contact Us
Bring Beep To Your Community
If you want to provide safe, convenient, eco-friendly mobility services in your area, reach out to Beep. We will help you assess the benefits and impact you can realize for your town, city, business or campus.