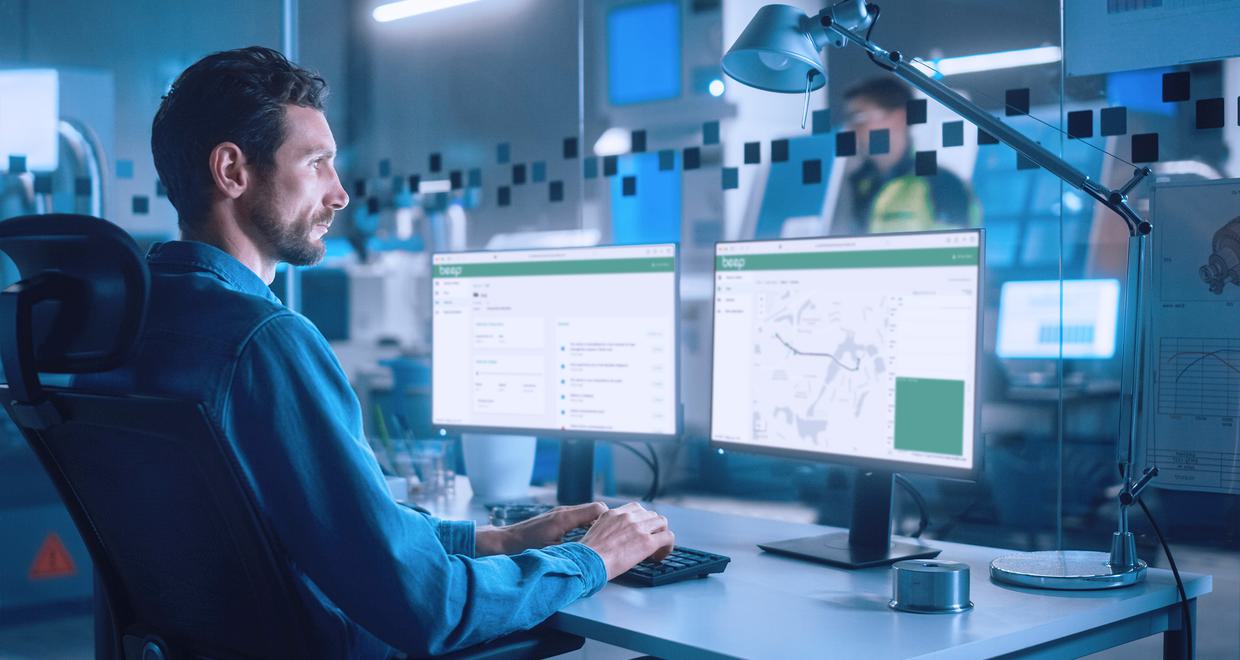 Built to enable rapid deployment of autonomous passenger services, platform delivers observability and service management across autonomous fleets
LAKE NONA, Fla. – Nov. 15, 2023 — Beep Inc., provider of autonomous shared mobility solutions, today announced the launch of Beep AutonomOS™, a software platform built to allow public transit operators and mobility-as-a-service companies to integrate autonomous mobility services rapidly and seamlessly into their solutions.
Software-driven mobility provides an opportunity to deliver a radically enhanced passenger experience through the implementation of autonomous mobility networks that combine real-time service optimization with greater efficiency and performance. As autonomous multi-passenger services begin deployment at scale, a solution for service management and remote supervision will be essential.
AutonomOS is an autonomous vehicle-agnostic solution designed to deliver safe, scalable, cost-effective multi-passenger autonomous mobility services. Built to meet the needs of public transit operators and mobility service providers, AutonomOS provides a comprehensive services capability for the deployment and management of autonomous passenger services either as a standalone solution or with integration into multimodal operations.
The solution provides a unified view of service performance, fleet health and on-road operations. Governance tools ensure mission compliance and passenger safety. Service optimization features integrate service performance, smart city infrastructure and ridership data to dynamically drive service efficiency, optimize passenger experience and maximize ridership across the system.
Key features include:
Service definition and planning functions support a variety of service modes from fixed route to demand-responsive variants
Machine learning-powered in-cabin monitoring enables rapid response by remote supervisors in the event of a passenger safety or roadway issue
Optimization engine drives real-time orchestration to maximize service efficiency
Connected platform integrates smart city infrastructure to provide greater context into site-wide operating conditions
Compatible with data standards including GTFS (General Transit Feed Specification), and GTFS-RT
Support for leading ADS providers and equipped with a data protocol and toolkit that enables rapid integration with further platforms
Delivered as a software-as-a-service offering, Beep AutonomOS has been built to enterprise-grade levels of scalability, performance and information security. The platform provides interfaces to seamlessly incorporate an autonomous service into an existing multi-modal operation, with integrations and APIs available for leading fleet management and operations platforms, and the ability to extend route and service visibility into third-party booking and journey planning platforms.
"Autonomous vehicles are capable of safely navigating our streets from waypoint to waypoint, but lack the concepts of mission, service and passenger," said Joe Moye, CEO for Beep. "Beep AutonomOS fills a void in the autonomy landscape by introducing management and orchestration logic enabling the integration of autonomous vehicles into public mobility networks. More importantly, AutonomOS adds an additional layer of functionality to address passenger safety and comfort concerns in advance of fully unattended autonomous deployments."
Contact Us
Bring Beep To Your Community
If you want to provide safe, convenient, eco-friendly mobility services in your area, reach out to Beep. We will help you assess the benefits and impact you can realize for your town, city, business or campus.