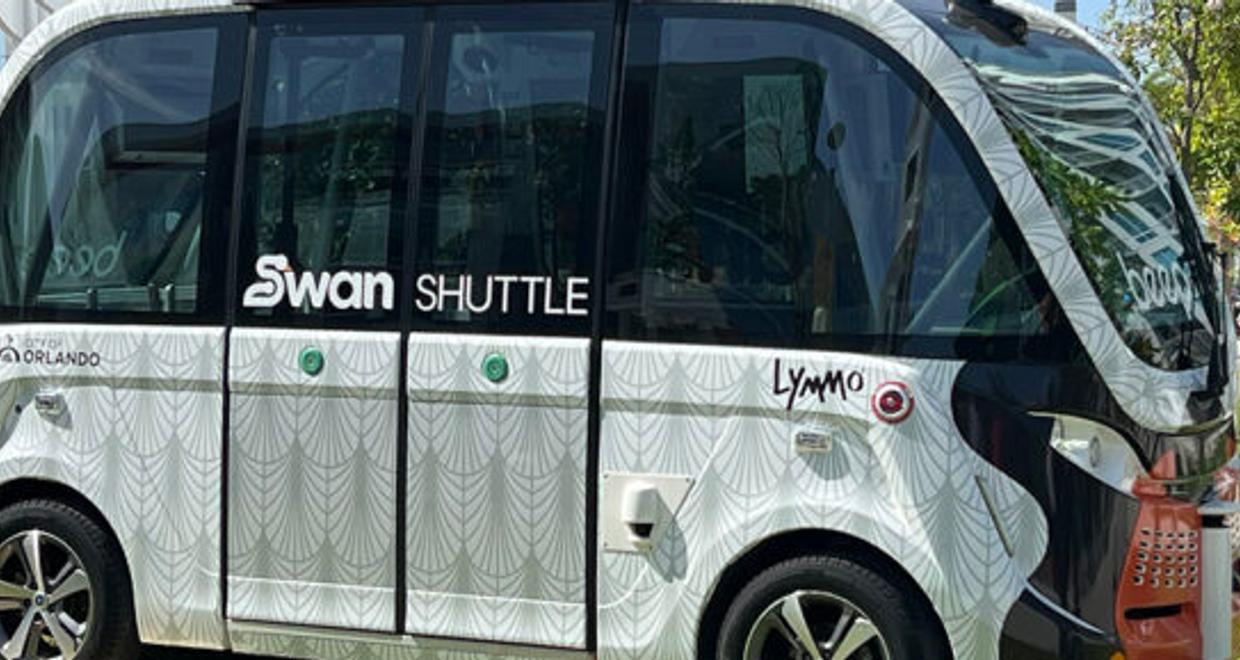 Partnership delivers six-month autonomous shuttle pilot in Downtown Orlando's Creative Village
ORLANDO, Fla. August 16, 2023 — The City of Orlando today announced the start of a six-month autonomous shuttle pilot program in partnership with Central Florida Regional Transportation Authority (LYNX) and Beep Inc., an Orlando-based provider of autonomous shared mobility solutions. The autonomous pilot, called SWAN Shuttle (Shuttling With Autonomous Navigation), will provide the city and LYNX data and learnings to guide the city's transportation strategy on how shared, electric and autonomous vehicles can enhance accessibility, improve the quality of life for residents and ensure the city remains future-ready and sustainable.
"The City of Orlando believes communities must be connected to thrive, and so we are always looking at new ways to embrace creative, innovative ways to do this," said Orlando Mayor Buddy Dyer. "With the expansion of autonomous vehicle shuttles into our neighborhoods, we can converge cutting-edge technology with new mobility solutions to further redefine the way our community moves. The SWAN Shuttle builds on our diverse network of mobility options and furthers our commitment to our residents, our environment and our future."
Residents, visitors and businesses will have access to the fare-free SWAN Shuttle pilot seven days a week in Creative Village starting on August 20, 2023. The roughly one-mile route will have five stops connecting LYNX Central Station and SunRail to UCF/Valencia Downtown, Luminary Green Park, Electronic Arts (EA) and Parramore and Creative Village residents and businesses. The shuttles will operate in the existing bus lane dedicated to the LYMMO Orange Line in the early afternoon and evening from 10 a.m. to 2 p.m. and 6:30 p.m. to 10:30 p.m.
"We move thousands of customers each and every day," said LYNX CEO Tiffany Homler Hawkins. "This partnership is an innovative way to test technology and understand how it will benefit our riders in a real-time setting that we believe will benefit the community for years to come."
Beep is an Orlando-based company with extensive experience in safely deploying and testing autonomous shuttles in communities from Florida to California, including the country's largest and longest-running autonomous shuttle network in Lake Nona, a living lab and master-planned community in the City of Orlando. Beep's national command center in Lake Nona will provide monitoring and oversight of the Creative Village SWAN Shuttle pilot alongside its other project sites across the United States.
"We are proud to be part of a forward-thinking and innovative community committed to the investment in technology that will improve the quality of life for its residents and the livability of our city," said Beep CEO Joe Moye. "Our partnership with the City of Orlando and LYNX provides the collaboration necessary to ensure autonomous vehicles are tested safely so that we can incorporate community feedback and prepare for the coming era of autonomous electric transportation, which will improve road safety, decrease carbon emissions and extend mobility to everyone."
To learn more about the SWAN Shuttle pilot, visit www.orlando.gov/swanshuttle or www.golynx.com/swanshuttle.
About City of Orlando
Orlando is a diverse, inclusive, equitable and dynamic city of more than 309,000 residents spanning nearly 120 square miles. The city is recognized as one of the nation's leaders in sustainability and innovative technologies and is designated a national autonomous vehicles proving ground. Through continued partnerships and a vast talent pool of innovation, Orlando is uniquely poised to continue to expand its transportation options and offerings both for residents and the 70 plus million annual visitors.
About LYNX
As the Central Florida Regional Transportation Authority, LYNX provides public transportation services primarily for Orange, Seminole, and Osceola counties. LYNX' 68 daily fixed-route bus service transports more than 55,000 passenger trips each weekday spanning an area of approximately 2,500 square miles with a resident population of more than 2.2 million. Other services include LYMMO, three fare-free downtown Orlando circulators; Vanpool commuter services; ACCESS LYNX paratransit service; 11 NeighborLink community circulators; FastLink limited stop service; and the Road Rangers roadside assistance program on Interstate 4.
About Beep
Beep delivers the next generation of autonomous, shared mobility solutions through its software and services. Specializing in planning, deploying and managing autonomous shuttles in dynamic mobility networks, Beep safely connects people and places with solutions that reduce congestion, eliminate carbon emissions, improve road safety and enable mobility for all. Beep leverages the data and learnings from its deployments to enhance and advance the safety, customer experience and operating capabilities of autonomous platforms. For more information visit ridebeep.com.
###
Media Contacts:
Contact Us
Bring Beep To Your Community
If you want to provide safe, convenient, eco-friendly mobility services in your area, reach out to Beep. We will help you assess the benefits and impact you can realize for your town, city, business or campus.