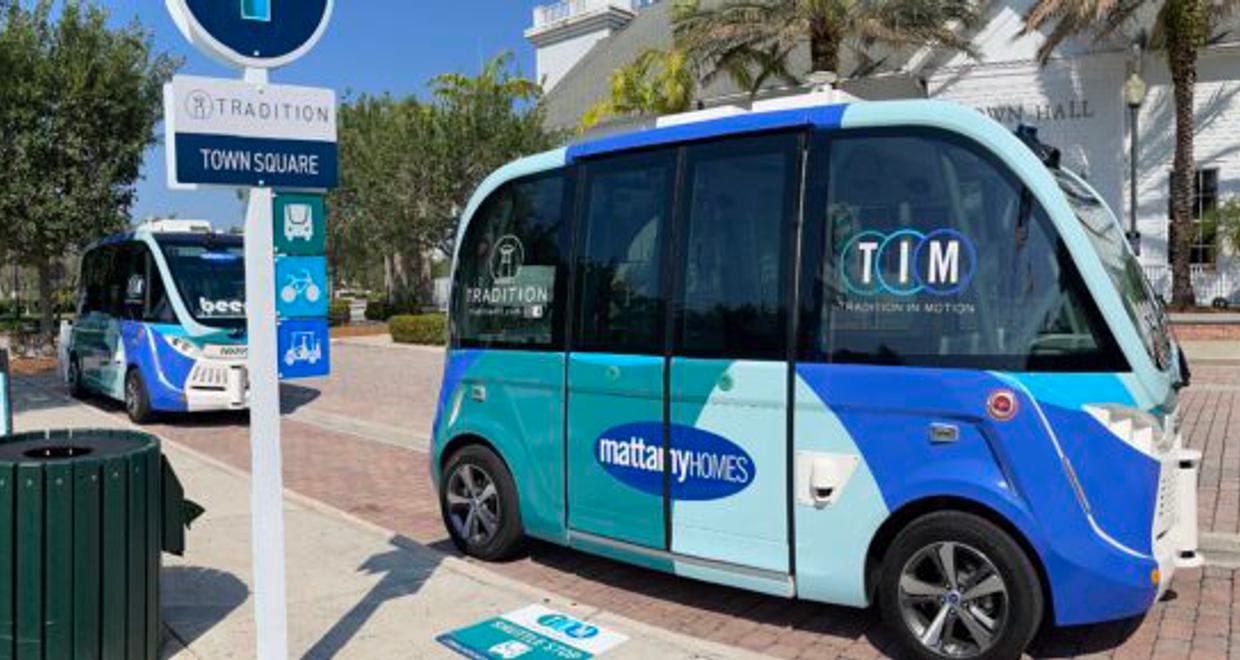 100 percent electric autonomous shuttle fleet doubling in size with autonomous mobility solutions leader Beep to expand the safe testing of vehicles while enabling seamless connectivity to key destinations
Alternative mobility services reinforce Mattamy's commitment to smart growth utilizing sustainable technology to elevate resident quality of life
1,000+ new homes planned for 2023 including Telaro – a 55+ active adult community
PORT ST. LUCIE, Fla. May 3, 2023 – Mattamy Homes, the largest privately owned homebuilder in North America, and Beep, an autonomous mobility solutions leader, announced today their continued commitment to smart and sustainable growth through advanced autonomous services connecting current and future key destinations within Tradition. As Mattamy Homes looks to add more than 1,000 new homes in 2023, Tradition's autonomous shuttle network now connects a 55+ active adult community to the city's main retail area with a new route. The program, called TIM (Tradition in Motion), will now feature three routes connecting additional residential communities to the center of Tradition Square and surrounding shops and restaurants.
"Tradition's ingredients create the perfect recipe to inspire well-being with state-of-the-art amenities at an unbeatable value," said Dan Grosswald, Mattamy President of Southeast Florida Division. "Our partnership with Beep enables us to integrate modern technology into the fabric of the community intended to let you live and connect with ease to your neighbors and everything the community has to offer without sacrificing Tradition's charm."
Launched in December 2020, the TIM program has been connecting riders to Tradition Town Square, The Landings and Manderlie with two routes using 100 percent electric autonomous shuttles. The network has safely connected and transported more than 17,000 passengers, removed the equivalent of more than 9,500 traditional vehicle trips and eliminated 3,500 kilograms of carbon dioxide – had the same number of trips been taken with a gas-powered vehicle. With the addition of the new route, residents and visitors can now connect with ease to Telaro, an active-adult 55+ community with resort-style amenities boasting more than 400 homesites.
"Mattamy's vision to implement and integrate a variety of technologies within the Tradition community shows a commitment to innovation – reflected by the expansion of autonomous use cases that ultimately improve quality of life for its residents," said Joe Moye, Beep CEO. "Tradition offers the right mix of residential options, entertainment, goods and services to support the safe implementation and testing of autonomous shuttles to demonstrate what a community of the future can be."
Future expansions include an additional six miles to the TIM network with more than five miles of dedicated path for the autonomous shuttles. The future routes will connect the Western Grove community to Tradition Square, Cadence, Seville, Emery and the Regional Park. The TIM network is part of Mattamy's larger plan called the T-Trail, which will consist of miles of experiential trailheads for shuttle riders, bicyclists and pedestrians providing residents greater freedom to travel how, where and when they want.
About Mattamy Homes
Mattamy Homes is the largest privately owned homebuilder in North America, with a 40-plus year history across the United States and Canada. Every year, Mattamy helps more than 8,000 families realize their dream of home ownership. In the United States, the company is represented in 10 markets – Charlotte, Raleigh, Phoenix, Tucson, Jacksonville, Orlando (where its US head office is located), Tampa, Sarasota, Naples and Southeast Florida – and in Canada, its communities stretch across the Greater Toronto Area, as well as in Ottawa, Calgary and Edmonton. Visit www.mattamyhomes.com for more information.
About Beep
Beep delivers the next generation of autonomous, shared mobility solutions through its software and services. Specializing in planning, deploying and managing autonomous shuttles in dynamic mobility networks, Beep safely connects people and places with solutions that reduce congestion, eliminate carbon emissions, improve road safety and enable mobility for all. Beep leverages the data and learnings from its deployments to enhance and advance the safety, customer experience and operating capabilities of autonomous platforms. For more information visit www.ridebeep.com.
###
Contact Us
Bring Beep To Your Community
If you want to provide safe, convenient, eco-friendly mobility services in your area, reach out to Beep. We will help you assess the benefits and impact you can realize for your town, city, business or campus.