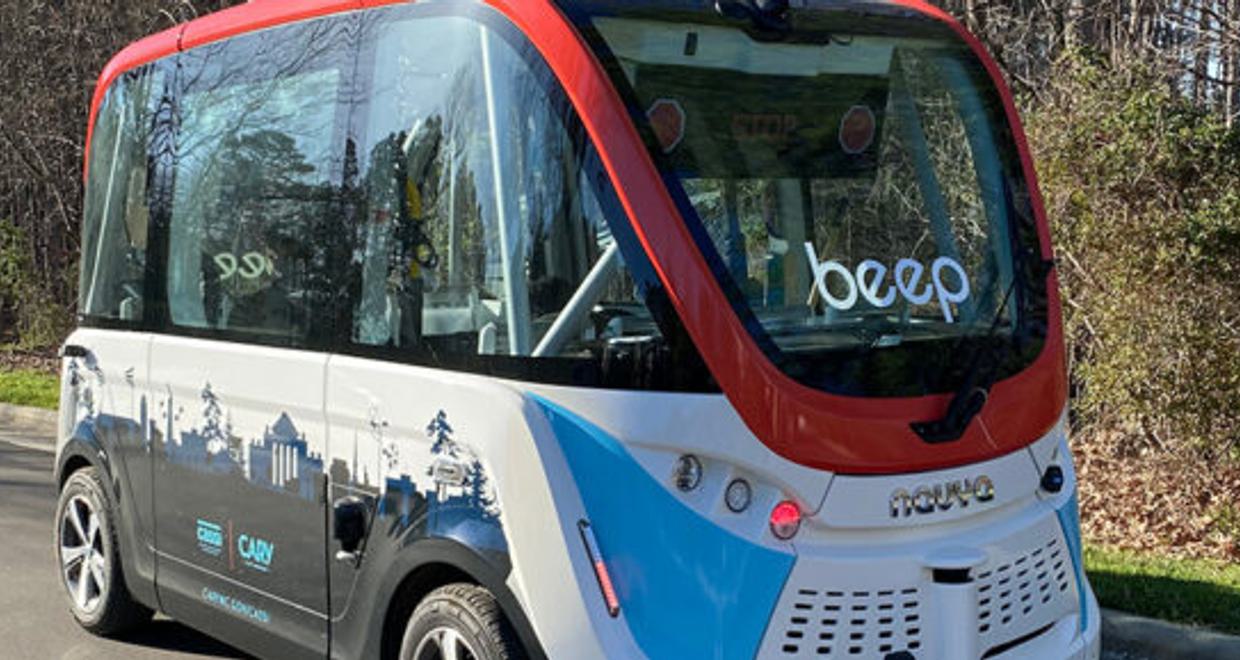 Initial Three-Month Project to Operate in Town of Cary, North Carolina
LAKE NONA, Fla. March 14, 2023 — Beep Inc., provider of autonomous shared mobility solutions, today announced a partnership with the North Carolina Department of Transportation (NCDOT). This partnership expands NCDOT's Connected Autonomous Shuttle Supporting Innovation (CASSI) program to further the state's understanding of autonomous technologies and demonstrate the viability of shared autonomy. NCDOT and Beep will test applicable use cases for shared, electric and autonomous shuttles.
The first pilot project will operate in Cary, North Carolina's Fred G. Bond Metro Park, one of the largest municipal parks in Wake County. The four-stop, two-mile route provides an innovative and environmentally friendly mobility solution for residents and visitors to easily access the 310-acre park at their leisure. Beep will leverage its experience in safely testing and monitoring autonomous mobility networks while gathering operational data and insights for the CASSI program and Cary. The program supports Cary's Smart and Connected Communities Program, which focuses on using data and technology to optimize city functions and improve the quality of life for its citizens.
"Beep is honored to have been selected by NCDOT to bring innovative autonomous mobility solutions to Cary," said Beep CEO Joe Moye. "We are pleased to be working closely with the agency on this pilot, our first in North Carolina, which will showcase how shared autonomous mobility can make a lasting positive impact in the community. Autonomous shuttles promise to relieve roadway congestion and help address carbon emissions, noise pollution and road safety, while extending mobility access. We are delighted to have the opportunity to work with NCDOT and Cary to showcase these capabilities to residents and visitors."
"The future of transportation includes shared mobility options that are as convenient, reliable, affordable, clean and as safe as driving, and allow every person equal access to opportunities and services," said NCDOT Secretary Eric Boyette. "The CASSI shuttle helps make this vision a reality."
"This project is a great opportunity for Cary residents and visitors to Bond Park to experience the latest in autonomous vehicle technology", said Cary Chief Information Officer Nicole Coughlin. "Innovation is a priority for Cary, and CASSI will help us better understand how we might integrate and accommodate autonomous technologies into our plans."
NCDOT and Beep are working to establish additional test locations in the state. These projects will enhance NCDOT's understanding of shared autonomous mobility in practice and evolve the CASSI program as technology continues to advance.
About Beep
Beep delivers the next generation of autonomous, shared mobility solutions through its software and services. Specializing in planning, deploying and managing autonomous shuttles in dynamic mobility networks, Beep safely connects people and places with solutions that reduce congestion, eliminate carbon emissions, improve road safety and enable mobility for all. Beep leverages the data and learnings from its deployments to enhance and advance the safety, customer experience and operating capabilities of autonomous platforms. For more information visit www.ridebeep.com.
###
Contact Us
Bring Beep To Your Community
If you want to provide safe, convenient, eco-friendly mobility services in your area, reach out to Beep. We will help you assess the benefits and impact you can realize for your town, city, business or campus.